Underfloor Heating Manchester
Everyone needs some kind of central heating system when living in the United Kingdom, but which one do we actually need? It all depends on the shape of your house, and whether you have room your walls for radiators. If you have limited space, underfloor heating is probably the way to go. There are two types of this kind heating; electric underfloor heating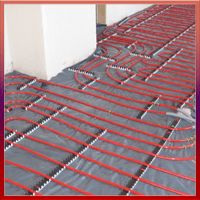 and water underfloor heating. No matter which type you choose, it will be an alternative to lots of radiators. They can be installed under any kind of flooring, such as tile, stone, carpet and wood. Here is a description of both to help you understand them, but our Plumber Manchester will be able to advise you more when he arrives.
Electric Underfloor Heating
This type of underfloor heating is also known as the dry system of central heating. Our engineer will place a series of electric wires underneath or even within your flooring. This is a good source of heating in small, cold rooms such as a bathroom. When we come out to assess your home for central heating, he will explain the different options you can choose from, and the best for your needs and budget. These options will include electric cable systems, flexible loose fitting wires used in small awkward areas or heating mats that are just rolled out over large areas. The electrical wires will be connected to a sensor on your mains supply, and then connected to a thermostat. You will then have full control over the temperature in your property. Electric underfloor heating systems are fairly thin, so they are a lot easier to install than wet underfloor heating. It will not need a lot disruption to your property and family. It is the easiest option to install, but a lot more expensive to run than a wet floor.
Water Underfloor Heating
This type of underfloor heating system is also known as pump-driven, underfloor heating, as it involves a pump to circulate the water. This heating system can be placed under any type of floor, the same as dry heating. You can have this type of heating installed all over the house or just in kitchens and bathrooms that tend to be colder rooms. Our Plumber Manchester will lay a series of pipes that will be connected to the boiler to circulate the warm water. If you have a solar water heating system, the pipes can be connected to this instead. The system uses water at a lower temperature than a single radiator, so that it is more efficient to heat your home. If you are ready to change your central heating system to an underfloor system. Then get in touch with Direct Heating Gas and Plumbing and we will send an engineer out to you as soon as possible.