Kitchen Plumbing / Blocked Drains
Have you found that your water is no flowing down the plughole the way it should? Chances are you have a blockage in your drains. This can be caused by food waste or sewage. If left unattended to, it will start to cause
dreadful smells in your kitchen, which no one wants in a place when preparing and eating food. It can become a health risk for the residents as well as your food.
Direct Gas Heating and Plumbing are here to help. Our team are fully qualified and experienced, and will fix your drainaage problem in no time at all.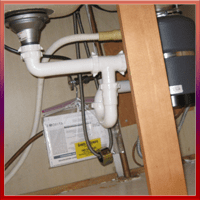 The service we provide our customers with:
No hidden fees – we give out fixed quotes for all work
Guaranteed work
Fully trained and qualified plumbers
We use the latest equipment
We have carried out work for over 150 commercial properties
We have carried out work for over 200 residential properties
A blocked drain in anyone's kitchen is a serious problem, and you need to call an experienced plumber immediately to assess and fix it as soon as possible. Our Plumber Manchester is here to help, providing you with a professional and friendly service to give you peace of mind.
If left untreated, a blocked drain can lead to a more serious problem, such as damage or even a collapsed drain. This will stop it from working properly that could mean water and sewage leaks, causing harm to any of your household.
Our team can use the latest technology to identify where any problems are. We use CCTV digital recording equipment that will give us quick access to where on the damaged drain the problem exists. We will then be able to give you a thorough report as to what is going on, and how we can work together to fix it.
If you are having a complete refurbishment in your kitchen, we will automatically check your drains and repair any problems before we begin work. Our team will talk with you about the type of sink and plumbing that would be best for your property and go from there.
Other equipment we may possibly use, depending on the problem, are high-pressure jetting and electrical and mechanical rotary machines.
If you are worried about whether you are insured for this kind of problem, you are normally covered under your buildings insurance for any standard blockage. It is possible, with your permission, for us to deal directly with your insurance company to save you any more inconvenience.
So, if you think you have any type of plumbing or drainage problem in your property, do not delay. If you live in Manchester and its surrounding areas get in touch with our team as soon as possible.