Boiler Repair Service Manchester
If you live in the Manchester area and need a plumber call Direct Gas Heating today. We do not charge our customers for coming out to check if there is a possible fault with your boiler. If we diagnose a problem that needs urgent assistance, our Plumber Manchester will talk with you about your options that will suit your budget.
Being stuck without heating or hot water at any time can be an inconvenience, but during the winter even more so. Our team of highly skilled plumbers have many years of experience between them, and will work with any make or model of gas boiler. We will detect the problem and repair on the same day or within 24 hours at the latest, depending on the size of the fault.
There are no hidden fees here at Direct Gas Heating either; we will give you a fixed price on your quote every time. This will not include our call out fee, as we don't have one; it is 100% FREE to get your boiler's problem diagnosed.
Why Have Your Boiler Serviced?
It is very important that you get your boiler serviced with us at least once a year, to keep it running efficiently. Carbon monoxide gas poisoning is one of the major problems of neglected gas boilers.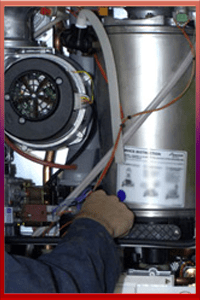 Emergency boiler repair is one of our Plumber Manchester specialities. We are available for emergencies 24/7 and will not let you down.
Our team are only a phone call away, and will be there as quickly as possible. Our quote includes a fixed price that will cover all parts and labour needed to repair your boiler. Everything is confirmed with our customers before we begin any work, to make sure that all parties involved are satisfied with the service.
Our technicians are all registered as Gas Safe Plumbers ; professional, friendly and quick making sure your boiler is up and running again in no time at all. All our work is guaranteed and done at competitive prices.
So, if you suspect you have a gas leak coming from your boiler or any gas appliance in your home or commercial building do not hesitate. Even if there is no fault, and it's just a false alarm, we will not charge you for coming out. It is best to be safe than sorry.
We will provide you with a full check of your boiler's system, and if need be we can give it a clean for a fixed price that can be determined at the time.