This is the place to call if you are looking for a Plumber Manchester. If you are unsure as to whether there is a fault with your boiler or not it is still best to call us. We will come and look at it and find any faults for FREE. If we do find a problem, We will be happy to discuss prices with you, then.   We've all experienced time without heating or hot water in the winter when the system has gone down. In the midst of the coldest months, it is the last thing we need. This is why Direct Plumber Manchester recommend you have your boiler serviced at least once a year to eliminate any problems. We are a team of experienced and qualified plumbers that will diagnose the fault with your boiler, and repair it the same day. If we need to order a part, we will have you up and running again within 24 hours.
It is very important to get your boiler serviced by our team of plumbers, as well as all your gas appliances. If an incorrectly working boiler is left alone, it could cause injury or even kill the occupants of the building. This is why we cannot stress that you need to have yours serviced regularly. One of the main problems is carbon monoxide, and in 2010 – 2011, there were 229 known cases of carbon monoxide poisoning recorded by the HSE.   Each of our boilers are A rated, so you will get great quality every time.   Here is a list of what can cause carbon monoxide to leak from your appliances:
Build-up of dust and pet hair – mostly in open flue systems and fires
Incorrectly installed appliances
Inadequate ventilation – vents can be blocked by curtains
Blockage of the flue – from birds' nests
Damage from water
If there is an emergency with your boiler or central heating system Our Plumber will be there in hurry to get it working again. If it is an emergency, such as your heating decides to break down in the middle of winter, call us straightaway.   These one-off emergency call outs will include a fixed price for the repair work, safety checks and boiler diagnostic to find the fault and parts and labour. We have no hidden fees when it comes to your peace of mind, safety and your warmth and comfort.
Power Flushing Manchester
We're pleased to announce that now offer a power flushing service as part of our service. Giving your central heating unit a power flush will clean the important parts of the boiler including pipes, valves, and the pump and boiler. It's also an important first step in the installation of a new boiler. So if you're living in Manchester and you're getting a new boiler, you definitely need to have a power flush done.
When you order a power flush, or when it is part of the service you've asked for, we will bring a high powered cleaner to your house. A radiator is removed and then replaced with the cleaner that pumps water and cleaning chemicals into the pipes at such a high speed that it thoroughly cleans everything it comes into contact with. At first all the radiator valves are left open so that the water can spread easily through the system, but then the radiator valves are opened and closed allowing for individual radiators to be cleaned.
When it's all said and done the water is drained from the system, and a chemical inhibitor is then used to prevent the sludge that was just cleaned from returning in the future. Overall the process can take between 3 to 8 hours depending on the size of your central heating system. The bigger your house, and the more pipes and radiators you have, then the longer the process is going to take. Care is taken to protect carpets and everything else that might be damaged by water to make sure that your home is left in the same condition we arrived in, just with much cleaner pipes and a better taken care of central heating system. To read more In-depth about our Power Flushing Manchester Click Here
We  specialise in industrial and commercial plant equipment, heaters & Plumbing. We will arrive at your premises to find the fault and then repair cabinet heaters, radiant tube heaters, suspended heaters, commercial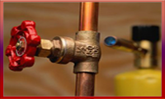 and plaque heaters. At the same time, we will perform safety checks on all your gas appliances, as well as a tightness test. For your buildings insurance to stay valid this is an illegal requirement. Our team is fully insured for all this type of work, so you don't have to worry about not getting an excellent job.
Gas Heating Installations
Our team of Plumbers will service any residential gas appliances, as well as installation. These jobs include gas hobs/cookers, central heating systems, space heaters and gas fires. If you are not sure which type of central heating you would like or what would be the best option for your home, our Plumber Manchester would be happy to advise. The system can be tailor made to suit your needs, and make sure you get the right sized radiator in each room, so that you can get maximum heat during the colder months.   Most people are opting for combi-boilers, as they are new and can save you money on your energy bills. If your rooms are small, and you don't have enough space to fix radiators, underfloor heating may be the best choice for your home's heating system.
Plumbing Manchester
Our highly qualified team of plumbers will cover all types of plumbing work. If you need leaks fixing, radiators moving, bathroom installations, taps replacing, soil stack replacement or a gas leak fixed, please give our Plumber Manchester a call today.   There is no job too small for Direct Plumbing Manchester, and our team is always on hand and happy to help. We have a great customer service and are always punctual, so we will never let you down. So, give us a call today or email us as soon as possible, and let us, help you get your boiler working properly and safely again.